13 Apr

Onrad, Inc.'s Farid Shafaie, M.D. Paves The Way for Interventional Radiology at Presence St. Mary's Hospital

One of our own Onrad, Inc. radiologists is making headlines again. In a recent article for Illinois' health magazine, Thrive Healthcare, Dr. Farid Shafaie was highlighted for the way he has improved interventional radiology treatments for patients at Presence Health St. Mary's Hospital. By promoting the use of advanced imaging technology and a minimally invasive approach, Dr. Shafaie has led his department into the future, bringing university-level techniques to the Kankakee, Illinois community.

Dr. Shafaie was quoted saying, "The highest quality care is being offered here at Presence St. Mary's and this allows most patients a local alternative to traveling to a tertiary center in Chicago." The interventional radiology department at Presence St. Mary's has grown approximately 150% over the last year and a half, meaning local patients are gaining better access to state-of-the-art care without having to drive an hour away.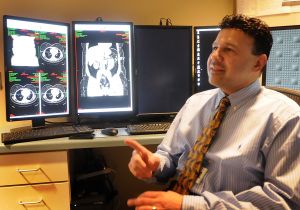 The new procedures being offered at Presence St. Mary's lead by Dr. Shafaie's team include:
–       Biopsies
–       Dialysis related interventions
–       Venous and arterial interventions (angioplasty, stenting and thombectomy)
–       Interventional oncology procedures (chemoembolization and ablation)
–       Radiofrequency ablation and Cryoblation
There are many benefits associated with the use of interventional radiology procedures, in addition to the fact that they are minimally invasive. They enable patients to have quicker recovery times, which results in lower costs and faster discharges from the hospital. Kudos to Presence St. Mary's for offering treatments that will improve patient satisfaction and outcomes and leading the way for Illinois health care.
[hs_contact display="both"]  
Onrad, Inc. employs the best of the best when it comes to radiology and interventional radiology doctors and Dr. Shafaie is no exception. Having experts available for teleradiology services is important but having physicians available for onsite radiology and teleradiology is of the utmost significance. As a regional medical director for Onrad, Dr. Farid Shafaie represents the kind of leadership Onrad has become known for in the industry.
As a radiology group, Onrad Inc.'s mission is to deliver personal and quality services to their partners while making positive and measureable differences in the health outcomes of patients in the communities where we serve. With a passion for quality and excellence in medicine, Onrad aims to be the provider of choice in radiology. We are proud to have leaders like Dr. Farid Shafaie as a part of Onrad's notable radiology group.